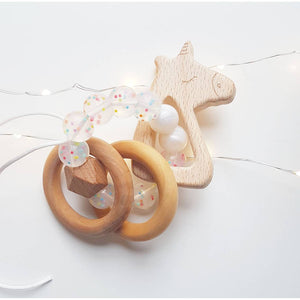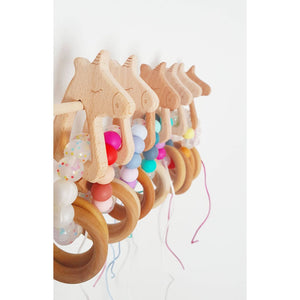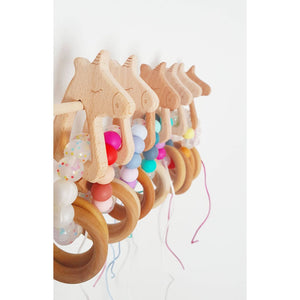 Wooden Unicorn Chew rattle - SPARKLES the Unicorn
 This is Sparkles! She is the leader of the Unicorns🦄
These wooden rattle teethers are a sensory and advanced teether delight! The hardness of the wood provides relief for teething babes whose teeth are about to break through the gums! Featuring a mix of NEW confetti silicone beads and beech wood rings and character, this toy/teether is a perfect bit of magic for that special babe and unicorn obsessed Mama!
Toy is recommended from 3 months to 1 year of age. Play MUST be supervised. Do Not leave child unattended with this toy. Discard at first sign of damage. Teeth marks may appear on wood and can be sanded off using fine grit sandpaper (sample found in Care pack).
Materials:
100% Beech wood
100% Premium Food grade silicone beads, 100% BPA, PVC, Phthalates, Mercury, and toxin free!
Materials are sourced from reputable Canadian wholesalers.
Can't make it to the party? Send your sweet gift directly to the recipients in my cute white gift boxes! The box is a branded, white glossy & 6 x 6 x 3'', so you can fit more than one toy in there! Also come with a gift card which can include a personal message 
Wooden elements are finished with organic wood polish made in house.
Homemade, all-natural, OE & Co Wood Sealer = 100% organic Canadian beeswax + 100 % *FRACTIONATED Coconut oil (What's the difference between Fractionated and regular coconut oil?)
**Small objects and beads can present choking hazards to young children. Never leave a child unattended with loose or potentially loose beads or other products. While this product is handmade, using toy standards safety knots and FDA approved materials, no product is completely indestructible. Fully formed teeth could potentially damage product if chewed aggressively, so responsible attentiveness is needed for any user or purchaser. Please see Conditions & Safety for more information.