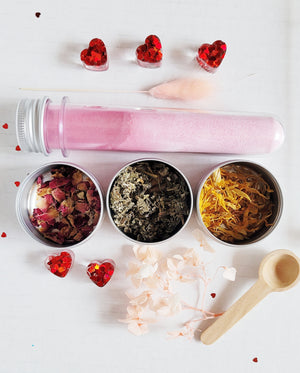 This Potion kit comes with
One vial of Potion mix ( available in Orange or Pink). Potion activates with water! Each vial contains 6-7 teaspoons. Natural Mica pigments used.
3 small tins of Plant based ingredients sourced from a Canadian apothecary and Tea house. 
One small heart shaped container with gems and accessories.
One small wooden spoon and scoop. 
One heart shaped vial necklace so that your little can take a touch of magic with them, wherever they go!
One laminated recipe card with 3 recipes for A Confidence boost, Loving Ourselves and Being a Kinder person ❤
Extra potion mix is available for purchase.
Ingredients include but are not limited to Calendula, rose petals, ginger, lemon, lavender leaves, raspberry leaves, dandelion leaves and chamomile.