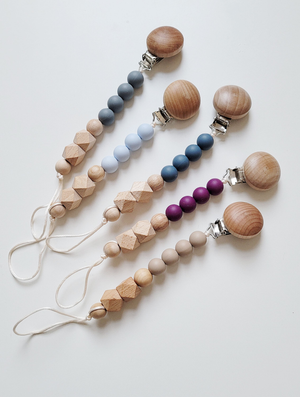 Give your stylish babes something cute and modern to chew on! Available in 5 gorgeous colors! Featuring hexagons for extra sensory and teething delight!
 This is not a toy or teething product and should not be used as such. The use of this product is intended to attach to your child's pacifier or teething toy.
Materials:
100% Beech wood
100% Premium Food grade silicone beads, 100% BPA, PVC, Phthalates and Mercury free!
Materials are sourced from reputable Canadian wholesalers.
Not recommended for babes under 6 months **Small objects and beads can present choking hazards to young children. Never leave a child unattended with beads or other products. Always dispose of any damaged product. No product is completely indestructible, and fully formed teeth could potentially damage product if chewed aggressively, so responsible attentiveness is needed for any user or purchaser.