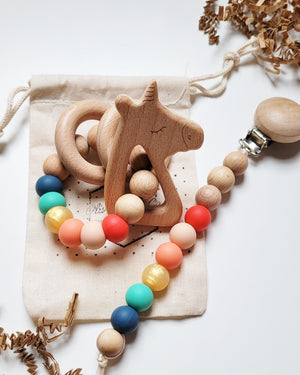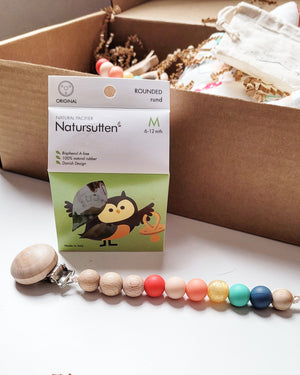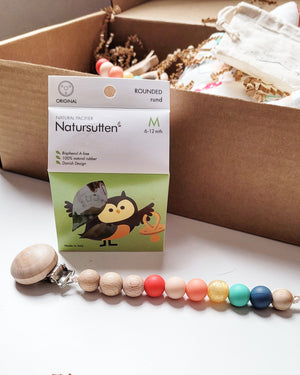 Nimbus the Winter Unicorn + Paci gift bundle
Rainbows are harder to find in the winter but when this optical phenomena happens, you can be sure Nimbus is at work🌈❄🦄
add a Natursutten binky for only $5.00! Available with bundle only. While quantities last.
Toy is recommended from 3 months to 1 year of age. Play MUST be supervised. Do Not leave child unattended with this toy. Discard at first sign of damage. Teeth marks may appear on wood and can be sanded off using fine grit sandpaper (sample found in Care pack).
Materials:
100% Beech wood
100% Premium Food grade silicone beads, 100% BPA, PVC, Phthalates, Mercury, and toxin free!
Materials are sourced from reputable Canadian wholesalers.
Can't make it to the party? Send your sweet gift directly to the recipients in my cute white gift boxes! The box is a branded, white glossy & 6 x 6 x 3'', so you can fit more than one toy in there! Also come with a gift card which can include a personal message and black satin ribbon. 
Wooden elements are finished with organic wood polish made in house.
Homemade, all-natural, OE & Co Wood Sealer = 100% organic Canadian beeswax + 100 % *FRACTIONATED Coconut oil 
**Please see Conditions & Safety for more information.