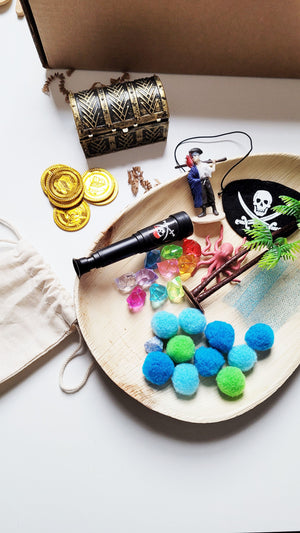 Love, Olive Play kits- It's a Pirates Life
Submerge your little one in sensory play with 'Its a pirate life' themed play kit! 
A FULL kit is a combo of The STARTER + a themed PLAY PACK.
 The Starter, which comes with:
- 4 tools perfect for little hands. Wooden tongs, spoon and scoops
- 1.5 cups of white kidney beans
- assortment of colorful rocks or wood blocks
- Two 2 cups bag of colored rice ( Blue )
- one biodegradable, eco friendly palm plate or bowl.
- Mailed in a kraft box, perfect for play!
It's a Pirates life Play Pack includes:
-Premium quality Themed figurines by SafariLTD
- Pirate treasure and coins
- a palm tree
- a limited edition mini treasure chest ( while quantities last) or Pirate flag
- a mini telescope
- A felt eyepatch for the littles to get really into character.
- poms poms and Colored pipe cleaner.
Get it as a FULL kit to get you started on your sensory play journey or just the PLAY pack to spruce up your existing setup! Play packs come in a branded canvas bag. 
DISCLAIMER** This kit contains small parts. Not recommended for children under 3. Play must be supervised.
Pirate Life sensory kit
This sensory kit is absolutely amazing! It came with so much to do the creative play opportunities are endless! My little one was so excited when we got it that he sat down and played for two hours. You can tell a lot of thought and care was put into the kit!